Life Courses is a series of digital learning experiences designed to help people lead more fulfilling lives.

As part of a lean product team, I led user experience for Life Courses. In my role, I balanced the needs and desires of the content team, development team, stakeholders, and users to create a minimum viable product that was insightful, scalable, and buildable within an ambitious timeline.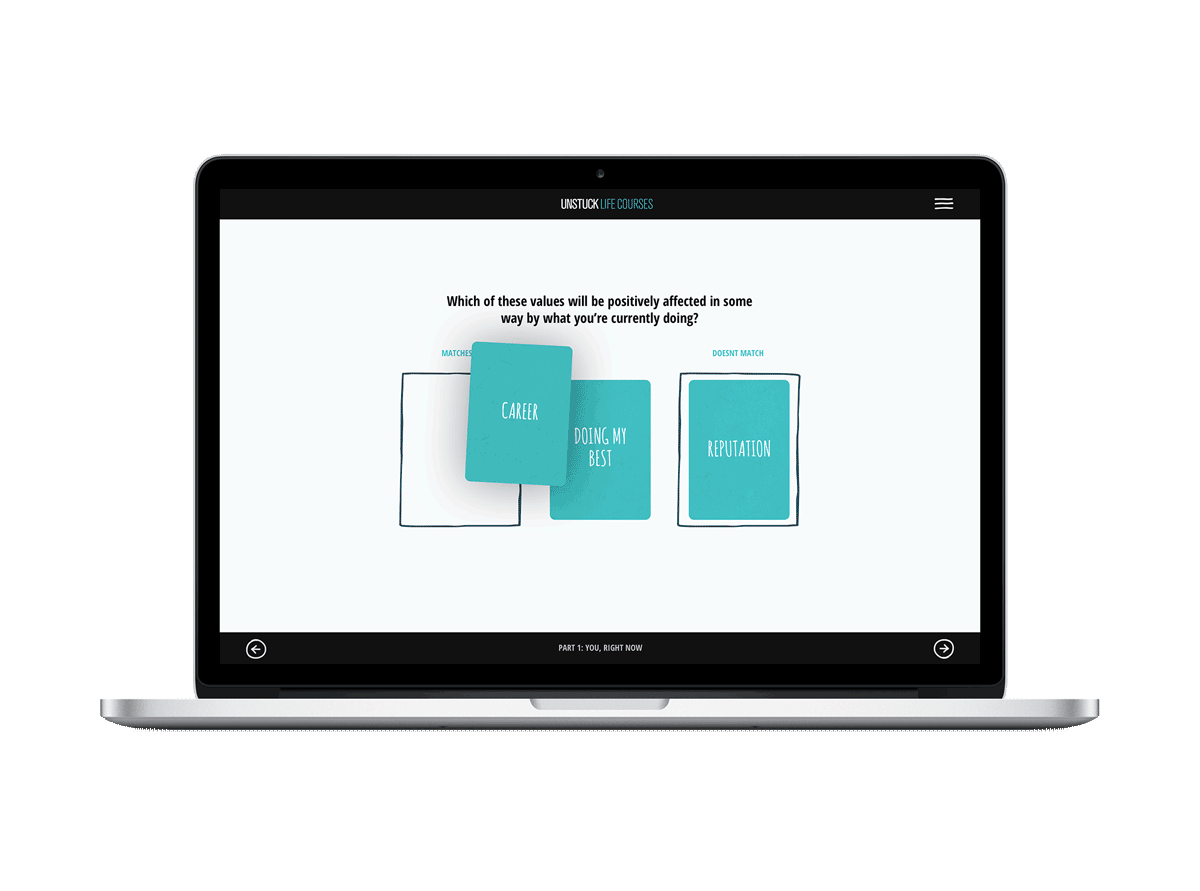 CASE STUDY
Unstuck is a brand that focuses on personal development and self-help by helping people shift their perspectives through insightful diagnostics, simple tools/exercises, and practical advice.
Our team's objective was to launch a new product from Unstuck—a series of 4-part online courses that would feel personalized to users' problems and enable behavior change. The first course was called
Making a Change
.
Our final product was a browser-based course that became tailored as users dug into their problem. Simple interactive exercises help users uncover personal insights through provocative questions, while fun, short videos are interspersed throughout, offering fresh perspectives and relatable stories from real people who have grappled with the same issues.
CHALLENGES

Create an MVP version of a multi-media digital course within a short timeframe.


Prototyping a 4-part course that relies heavily on diagnostics and conditional logic paths.


Evolving the digital brand system to a more scalable, atomic design system.

PROTOTYPING
With a small team and an aggressive timeline, we needed to quickly test a large amount of the written content with users. The challenge of this was that the course consisted mostly of diagnostics and exercises that gave users archetypes and results specific to their answers. We got scrappy and decided to use
Typeform
, a quiz/survey creation tool. Typeform's intricate logic maps allowed us to use conditional logic paths to test and validate the strength of our diagnostics, exercises, and content with an early group of testers.
Using the feedback from this prototype, I was able to create wireframes to determine the right pacing for the course.

Here's an example of how one exercise evolved from Typeform to wireframe to MVP to the current visual design.
SCALABILITY


One of the challenges of this project was maintaining the delight factor of the original Unstuck iPad app's user interface while creating a system that could be scalable for future courses.

Many of the exercises and tools in the original app were unique, one-off designs making it difficult to scale up and reuse components. With an intent to release multiple Life Courses quickly, we wanted to take into account the future of the product, while also maintaining the delight factor of the the original app.

The solution was to create a set of exercise templates, while allowing the ability to add new templates in the future as the product grows.
Making a Change, we released Spark Your Motivation. With our learnings from Making a Change, we were able to create a stronger product the second time around.
TESTIMONIALS


It's been rewarding to hear about how Life Courses has been helping people. Below are some testimonials we've received.
I've gained personal insights along with sage advice and a concrete action plan for making my change happen. I'm emotionally and practically prepared to move forward.
—Jade H.

I am so thankful that I went through this course. It made me realize things that I didn't know about myself (correction: that I never admitted to myself). I know that I will live a more fulfilling life thanks to the realizations I came to using Unstuck's program.
—Sandy C.

This course helped me gain clarity. I knew my goals, but I didn't know where to start. I learned how to choose starting points and weed out things that weren't that important.
—Katherine K.

I liked that it was interactive and responded to my answers... it made me feel like it was a tailored course just for me. I like the style and presentation; it's informal, but informative.
—Anne-Louise S
-
February–August 2016
SYPartners

Team
Experience Director: Kendra Cooke
Lead UX Designer: Johana Tran
Creative Director: David Papworth
Visual Designers: Melike Turgut and Tim Macholz