Unstuck is a coach, a guide, and a friend. Unstuck believes that the solution to one's problem lies within themselves. To help users uncover that answer in both its interactive products and in its articles, Unstuck asks questions that encourage users to reflect.

During a 1-week design sprint, the Unstuck team explored ways to engage visitors as the site transitioned from a marketing site/blog to a full-fledged content destination. I explored ways to incorporate the interactive, socratic quality of Unstuck's products into its articles to enhance readers' experiences and help them internalize learnings through conversation.



PROCESS

I began by sketching to explore interesting and fun ways for users to engage with articles and to lead users to more content that would be meaningful to them. My goal was to bring the voice of Unstuck to life.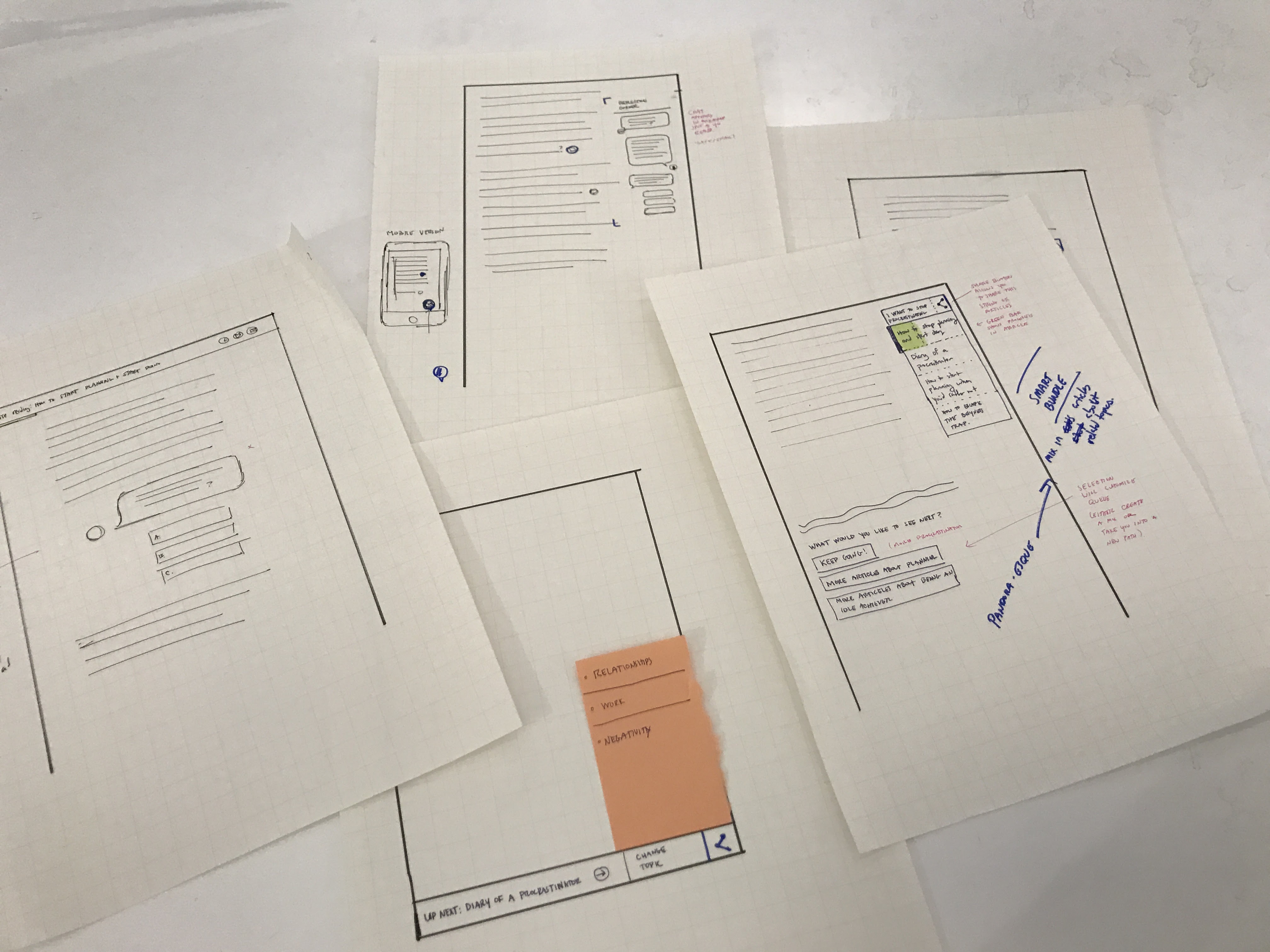 UNSTUCK CHATBOT


What if we adapted Unstuck's conversational tone into a friendly chatbot?

One problem the Unstuck blog was facing was getting users to dive into its archive of advice and articles.

As a proof of concept, I built a simple prototype to explore alternative ways for users to discover content and advice through conversational UI. This chatbot prescribes helpful articles and tips based on your stuck moment.

This could function as an SMS bot, a standalone app, or an assistant that lived on the site. I believed that it also had further applications within the Unstuck world.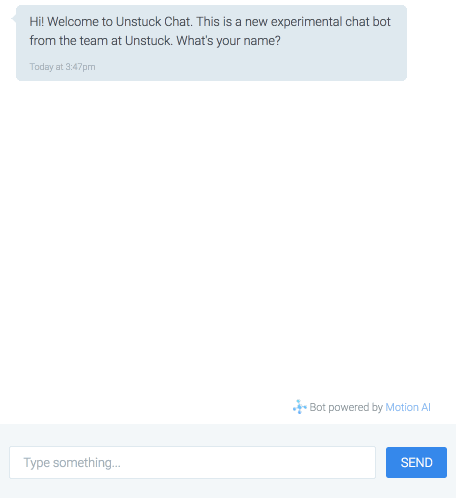 Try it out here.
(It's only programmed for the topic of procrastination right now, though.)
REFLECTION THROUGH CONVERSATION


What if we interspersed thoughtful provocations and moments of reflection into the articles?

I explored integrating a conversation UI into Unstuck's articles. By asking thoughtful questions throughout the article, the bot encourages users to reflect as they consume.
GUIDED EXERCISES


What if we brought Unstuck's unique interactive elements into the blog?

Unstuck began as a diagnostic app so it seemed natural to integrate digital exercises into the blog. This particular example is a lo-fi version of a conversational UI and uses a madlib convention to help users set an intent. At the end of the article, users can opt to have a reminder sent to them the next day via email or SMS.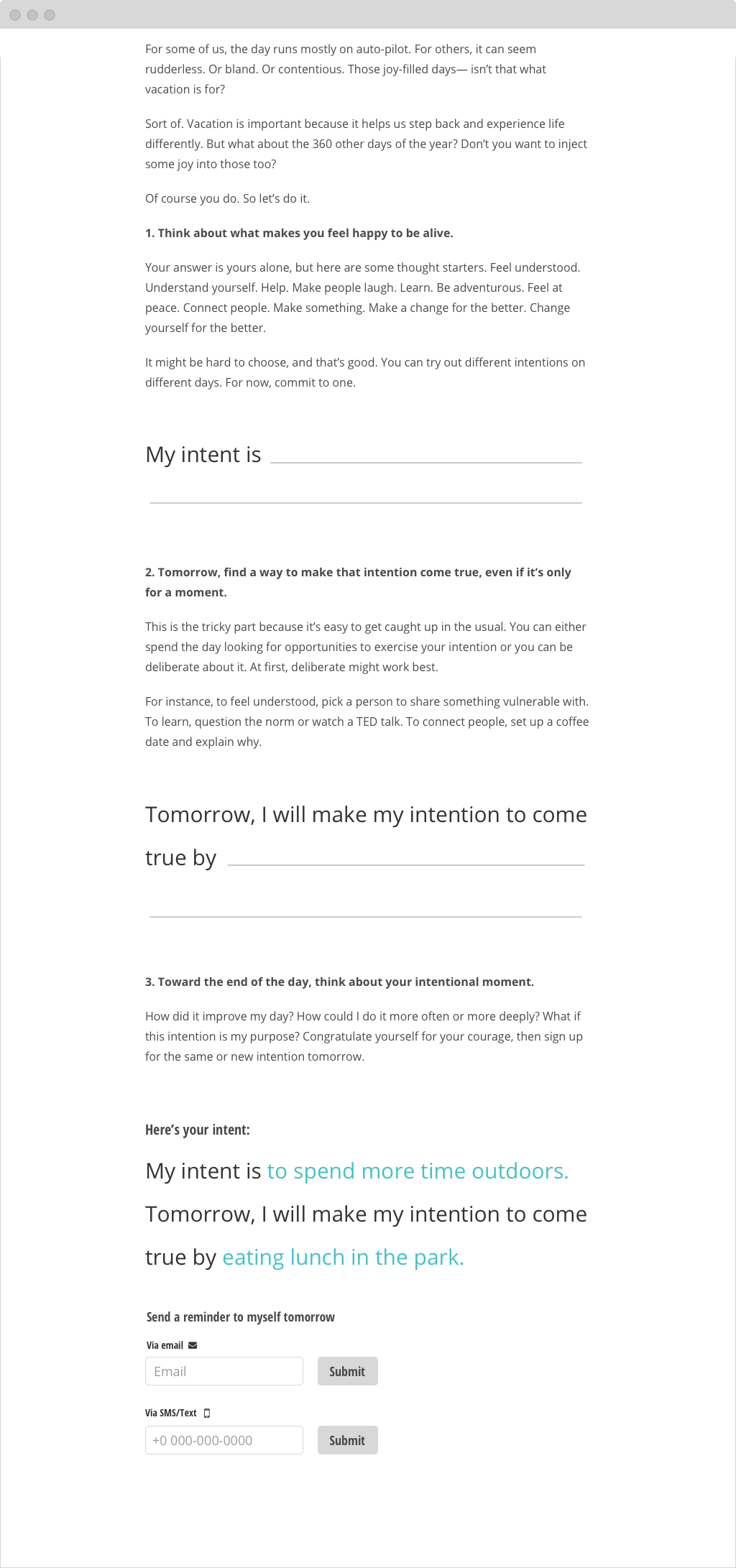 -
April 2017
SYPartners