Kickoff Kit helps project managers and team leads set their teams up for success. Through a variety of tools and exercises, Kickoff Kit helps users approach project management from a human-centered perspective.

I worked with a lean product team to launch Kickoff as a minimum viable product. I worked on the UI, UX, and visual design of the product. I also partnered with the product owner to validate the concept through interviews and user testing.


CASE STUDY


Kickoff Kit's MVP consists of two digital tools and a substantial collection of downloadable pdf worksheets and exercises that can be used before or during kickoff meetings.

Project Profiler helps project managers/team leads get their team aligned and quickly up to speed on a project they're starting. It helps users think through all the moving parts of a project and then offers a shareable at-a-glance document with all the info.

Agenda Planner helps users plan a kickoff meeting. By answering a simple diagnostic, the tool is able to generate customized agendas based on time frames and team needs. It also recommends downloadable activities andtools for teams to do during the meeting.

TOOLS AND DOWNLOADS


The full vision of Kickoff Kit included a library full of digital tools, that helped users with a range of topics, such as planning, teambuilding, and inspiration.

However, instead of creating a digital version of every tool in the system, we decided to focus on digitizing Project Profiler and Agenda Planner since they garnered the most interest during our rounds of user testing. We created downloadable pdf versions of the rest of the tools. This allowed us to wait and validate which ones users liked best and help us prioritize which ones to digitize next.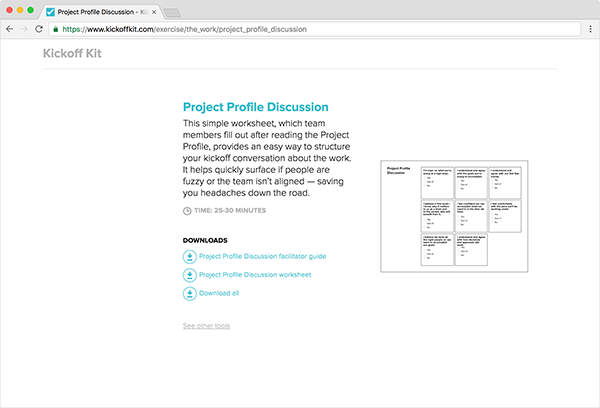 -
Visit site ︎

Fall 2014
SYPartners

Product Owner/Content Strategist: Julie Felner
Creative Director: Jarin Tabata
UX/UI/VIsual Design: Johana Tran
UI/Visual Design: Antonio Pasagali